Apartments
Homes & Villas
Rentals
The village of Las Galeras offers a great choice of vacation rentals for a short or long term vacation.
These are the better quality Apartments, Houses and Villas located in and around the center of the town, within walking distance of everything.
You will find nearby all restaurants, bars, shopping & services, and of course the beaches!
Las Galeras Apartment Rentals : Apartment & Aparthotel in Las Galeras Dominican Republic.
Apartment Rental
La Isleta Aparthotel
Oceanview
One of the best place to stay during your vacation in Las Galeras. Over 150 REVIEWS of 5 STARS on Trip Advisor! 7 Spacious oceanview apartments located only 100 meters from the beach of Las Galeras. Centrally located near all restaurants and shopping of the main street. See Site
Las Galeras Villa Rentals : Villas for Rent in Las Galeras Dominican Republic.
Villas Rental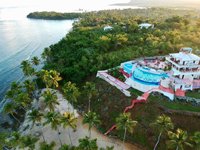 Sunset Samana Boutique Hotel
Beachfront
Exclusive and unique oceanfront boutique hotel in Las Galeras with spectacular views on Playa Rincon. Exclusive location on private beach. Peace and tranquility awaits you.... A dream vacation away from the crowds. Only a 5 Minutes walk to famous La Playita Beach.See Site
Las Galeras Village
Villas Rentals
9 Superb and Spacious Villas perch on the hillside with Swimming Pool, Jacuzzi, Game Room, Private Restaurant, Gymnasium, Horseback Riding, Big Barbecue to share with all Guests and a beautiful Naturist Path.
All within only five minutes from the beach!See Site
La Casa Blanca
Luxury Villa
Oceanfront Luxury Villa for Rent for an Exclusive Vacation in Samana Dominican Republic. 4 Bedrooms, 4 Bathrooms, Pool, AC, WiFi, next to a Beautiful Beach. Located at The Cove, a gate community with 24 hours security. 10 minutes drive from Las Galeras. See Site
Villa Punta Coral
Oceanview
Villa Punta Coral is a spacious Caribbean dream home only 10 minutes drive from Las Galeras. Splendidly situated on the shore of Samana Bay, it accommodates up to 8 people, has a large terrace, swimming pool, BBQ area, fully equipped kitchen and free WiFi.See Site
Las Galeras Condo Rentals : Condos for Rent in Las Galeras Dominican Republic.
Condo Rental
Condos The Cove
Vacation Rental
The Cove condos are located a short drive of 7 minutes from Las Galeras. Large Condominium units of 1200 square feet, AC, Pool, Washer & Dryer, 2 Bedrooms, 2 Baths and all Kitchen & Linen accessories. Oceanfront living on a beautiful beach in a natural cove setting.See Site
Go Las Galeras™
Travel Guide