Discover
the amazing
diversity
and beauty of
the Samana
Peninsula and
Samana Bay
Day Tours, Day Trips and Activities around Las Galeras and in Samana:
Cayo Levantado,
Cascada El Limon,
Playa Rincon,
ATV Quad Four Wheelers,
Safari Expedition,
Los Haitises Park,
Sailing Catamaran,
Playa El Valle,
Cascada Lulu,
Zipline Samana,
Whale Watching,
Scuba Diving
and more.

Boca del Diablo - Devil's Mouth on the Peninsula of Samana

The large Humpback Whales migrates every year to Samana to reproduce and give birth
Tours, Excursions
and Activities
All the Tours, Excursions and Activities around the Town of Las Galeras, in the Peninsula of Samana, Bay of Samana, Playa Rincon, Playa Fronton and
all other secluded beaches.
Deep Sea Fishing, Humpback Whale Watching, Waterfalls swimming, Scuba Diving, Snorkeling, Secluded beaches exploration, Caves and mangroves, Safari expedition, ATV Quad 4 Wheelers adventures and much more.

Discover and Explore the lush Samana Peninsula and the immense Bay of Samana.
Las Galeras Sport Fishing - Deep Sea Fishing in Las Galeras Samana Dominican Republic.
Deep Sea
Sport Fishing
Deep Sea Sport Fishing in Samana
Catch the Big One!
DDD Sport Fishing in Samana Bay Dominican Republic. Come aboard our brand new SEAFOX 25 Foot boat for the best Deep Sea Fishing in Samana : Catch Sailfish, Blue Marlin, Mahi Mahi, Barracuda, Wahoo and Yellow Fin Tuna in the Deep Blue Waters of Samana Bay.See Site
Things To Do in Las Galeras Dominican Republic. Activities & Attractions in and around Las Galeras town.
Things To Do
in Las Galeras
Samana Tourist Services™
Best Excursions and tours in Samana
Do The Best Excurions and Tours all over Samana Dominican Republic with us!
ATV Tour to Rincon, Whale Watching Tour, Zipline Tour, Playa Fronton + Playa Madame Tour, Sport Fishing, Los Haitises Park Tour, El Limon Waterfall Tour and much more!See Site
SCUBA LIBRE - PADI Diving Center
Snorkeling Trips around Las Galeras
SCUBA LIBRE - Scuba Diving Center in Las Galeras Dominican Republic. We are located at the beach of GRAND PARADISE HOTEL.
We are a PADI & ESA Certified Dive Center.
Do the Best Diving and Snorkeling Trips in Las Galeras with the experts of SCUBA LIBRE.See Site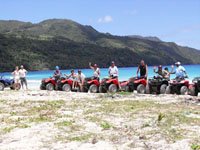 Tauro Tours & ATV Adventures
Best Excursions all over Samana
Tauro Tours and ATV Adventures is the leader in Tours and Excursions all over the beautiful Samana Peninsula and Samana Bay. Melvin Moya, owner and expert guide of Tauro Tours will take you on memorable journeys all over the spectacular Samana region ! See Site
Tour Samana With Terry
Explore the Peninsula and Bay
Terry came to the Dominican Republic in 2002 to do volunteer work and fell in love with Samana. Since then he has learned very much about the area and the people. And Spanish too! Now Terry and his friends offer the highest rated Excursions and Tours to every corner of the Samana Peninsula. Come see why he stayed !
See Site
Rudy's Rancho in Las Galeras
Horseback Riding in Samana
Located 200 meters from the Grand Pardise beach, Rudy's Rancho offers horseback riding to discover the flamboyant nature and wonderful sea views of Las Galeras. Rudy shares with you his passion for horses and for the Peninsule of Samana, with professionalism and kindness.See Site
Excursions in Las Galeras Dominican Republic. Discover the Best Excursions in Las Galeras DR.
Excursions from Samana
Escape Tours Samana
Exclusive PRIVATE Excursions
EXCLUSIVE Private Custom-made Excursions in Samana : Los Haitises Park, Whale Watching, Sport Fishing, Yacht & Boat Rentals, Private Boat Tour to Cayo Levantado island, Canyoning Limon waterfall, Playa Fronton + Madame, Scuba Diving and more ! See Site
OPTIMA Taxi Las Galeras & Samana
Private Sightseeing Tours in Samana
Private Sightseeing Tours for Hotels in Las Galeras and Samana to : Cascada Limon Waterfall, Playa Rincon Beach and to the superb beaches of Las Terrenas. Best LOW PRICE PRIVATE TOURS in Samana for your group of 2 up to 6 persons. See Site
Whale Watching Tour in Samana
Kim Beddall of Whale Samana
Kim Beddall, Canadian animal advocate and conservationist, has been guiding Whale Watching trips in Samana since 1983. Kim has been instrumental in transforming Samana into one of the World's Top Ten destinations for Whale Watching. Departures from Samana.See Site
Go Las Galeras - No.1 Source of Tourism Information about Las Galeras.