Best Lodging in Las Galeras Dominican Republic.
Las Galeras has
an excellent
lodging selection
of affordable
Small Hotels
Choices for all budgets and personal taste, These Hotels are well located in and around the center of the village of Las Galeras, and some of them a short drive away.
Small Hotels
Affordable lodging for a beautiful vacation in paradise.
These better small Hotels are located right in town, a short walking distance from the beaches of Las Galeras.
Close by you'll find all the restaurants, bars, shops and services.
Arena Oceanview Bungalows
Downtown Las Galeras
NEW! Oceanview Bungalows in nice tropical garden in Las Galeras located downtown near all activities, bars, and shops. High standard restaurant, a beautiful garden with jacuzzi, and steps away (80 meters) from a beautiful beach in one of Dominican Republic's best kept secrets.See Site
La Isleta Apart Hotel
Oceanview
One of the best place to stay during your vacation in Las Galeras. Over 150 REVIEWS of 5 STARS on Trip Advisor! 7 Spacious oceanview apartments located only 100 meters from the beach of Las Galeras. Centrally located near all restaurants and shopping of the main street. See Site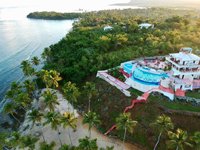 Sunset Samana Boutique Hotel
Beachfront
Exclusive and unique oceanfront boutique hotel in Las Galeras with spectacular views on Playa Rincon. Exclusive location on private beach. Peace and tranquility awaits you.... A dream vacation away from the crowds. Only a 5 Minutes walk to famous La Playita Beach.See Site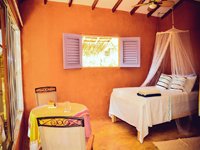 El Pequeno Refugio
Low Price lodging
We are located right in the center of Las Galeras... Come and enjoy : An amazing atmosphere, beautiful low price rooms for rent, delicious food, and well prepared drinks for you to enjoy! We have free Wi-FI, the best music in town and we're very close to the beach...
See More
El Jardin del Coco
Bed & Breakfast
Welcome to El Jardin del Coco! An intimate and quiet B&B Hotel located near the famous La Playita beach, rated the best beach in Las Galeras. Choose from our little bungalows or apartments that can accomodate up to 4 persons for a perfect vacation getaway. See Site
Go Las Galeras™
Travel Guide